News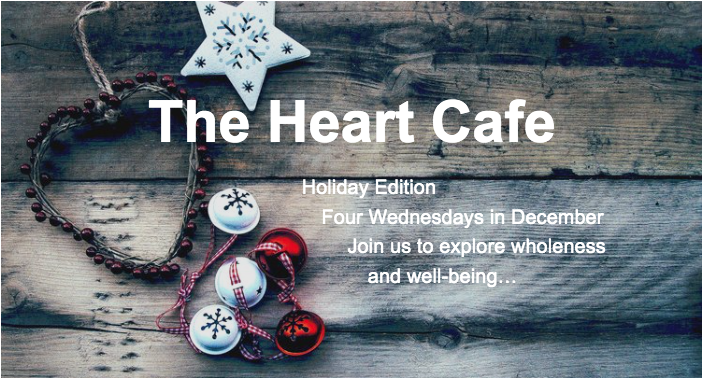 An Invitation to Reflect and Connect (Public)
If you're interested in following the natural rhythms of the season and slowing down to reflect and connect, you may be interested in TIS contributor, and communication and relationship coach Jenna Card's weekly "Heart Cafe" Zoom calls at 10:30am starting tomorrow, on Wednesday mornings, and running throughout December.
From Jenna's site:
The Heart Cafe Holiday Edition is an invitation to follow the natural rhythm of winter by slowing down to reflect and connect.  Join us as we explore vital aspects of balance & well-being and enjoy a more relaxed, joyous holiday season.
As a remedy for this busy time, each Wednesday in December we will gather on Zoom to explore a different theme, with a focus on wholeness, self-care, insight, and the power of empathy.  I will share with you wisdom from Compassionate Communication (NVC), nature-based and somatic realms and offer an opportunity for self-reflection, connecting in small groups and sharing your insights and reflections.  Choice is paramount, and you'll be encouraged to engage in the ways that support you the most.
Jenna will be donating all proceeds from the Heart Cafe to Fire & Flower, which offers girls mentorship & rites of passage programs.
Calls will be at 10:30am on 12/7, 12/14, 12/21 & 12/28. To register, click the button below and sign up at the bottom of the page.
Jenna will also be offering Fundamentals of Compassionate Communication, a 6-week introduction to Nonviolent Communication, starting January 11, 2023. Click the button below for more info and to register.